Claro™, Smooth plaster
A smooth matte plaster finish with natural moderate mottling.
Looking for interior paint ideas or a faux wall finish? With Claro™ you can achieve a breathtaking mottled plaster finish. The smooth matte finish of Claro™ creates the beautiful look of traditional interior plaster with natural color variation.
Application Overview
A tinted basecoat of Alto™ or Solido™ is applied to a smooth substrate and let dry. A thin coat of Claro™ is then applied with a Venetian trowel using random decorative trowel strokes. After completely dry, Claro™ may be sealed to increase scratch and stain resistance. Claro™ is easily cleaned or patched when scuffs and dings do occur.
Uses
Claro™ may be used for either interior or exterior applications over properly prepared substrates, including new or properly prepared existing drywall.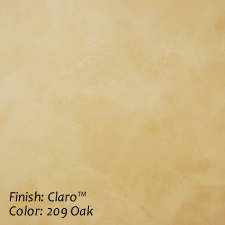 Packaging: 2.0 Gallon (22 lb) pail 1.0 Gallon (11 lb) pail
Colors: Claro™ is available in the 24 standard Variance colors or may be custom colored upon request.
Coverage: 400-500 square feet (20-24 m sq) per 2.0 Gal pail