Brio™, High polish plaster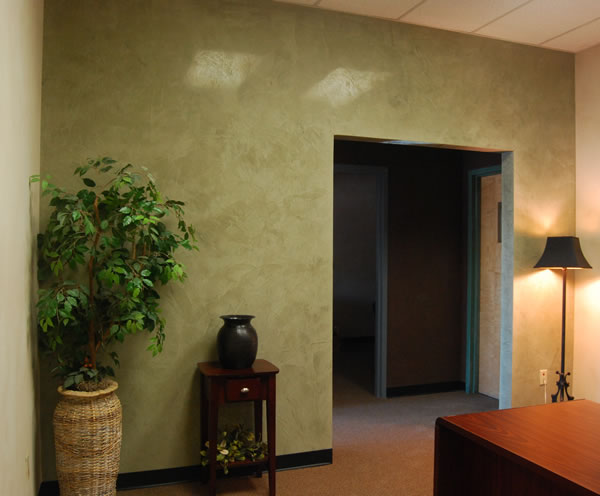 Venetian plaster style finish, with a high polish and distinct mottling.
Give your walls dimension that goes beyond faux paint. The Venetian Plaster look of Brio™ is smooth to the touch with a stunning high gloss shine reminiscent of marble. With the ability to be tinted to almost any paint color, it's perfect for any wall in your home or office. Successive coats of Brio™ are applied to create a stunning and easily maintained multi-dimensional mottling effect. The Brio™ plaster finish produces the look of beautiful aged lime-based Italian plasters.
Application Overview
Over a smooth substrate a tinted basecoat of either Alto™ or Solido™ is applied and allowed to dry. This basecoat should be applied as smooth as possible in order to accept Brio™. Then Brio™ is applied very thin using short, decorative trowel strokes. After allowed to dry a second coat of Brio™ is applied in the same manner. The surface is then burnished with a Venetian trowel as the Brio starts to dry. The second stage of burnishing may be done when the finish is almost completely dry. Burnish until desired amount of mottling and shine is apparent.
Uses
Brio™ may be used for interior applications over properly prepared substrates, including new level 5 drywall or properly prepared existing drywall. A sealer may be used but is not required for most applications.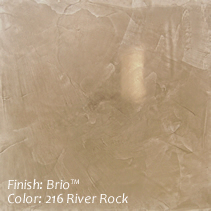 Packaging: 2.0 Gallon (22 lb) pail 1.0 Gallon (11 lb) pail
Colors: Brio™ is available in the 24 standard Variance colors or may be custom colored upon request.
Coverage: 400-600 square feet (121-182 m sq) per 2.0 Gal pail